Zappion
The neo-classical style mansion of Zappion
This lovely mansion in shades of cream and yellow was built in 1883 in a neo-classical style and donated to the nation of Greece by the prosperous business man Constantine Zappas. It is graced by a 'Corinthian' portico.

Zappion can be found at the Stadium side of the National Gardens. There is a wide expanse of tarmac in front of the building, lawns and fountains. The whole place is especially beautiful when illuminated at night.
Inside Zappion
Exhibitions are regularly held in the Zappion building. An exhibition about the PanathinaikoStadium, Zappion itself, and the sculpture collection around it, was open to the public in the run up to the Olympic Games 2004.
There are spokespeople for the Ministry of Culture present who are able to explain the exhibits in Greek and English. There is also an audio-visual presentation via a large screen.
Anyone with an eye for beauty and architecture will appreciate this magnificent building. It is not only in an attractive setting surrounded by lawns and woodland, but magically designed with graceful columns and symmetry.
The entrance to the building is via a high-ceilinged portico and vestibule with a painted ceiling. This leads on to an inner circular courtyard surrounded by a columned gallery. The whole effect is one of remarkable serenity and space.
| | |
| --- | --- |
| | |
| intricately painted ceiling | flower bed in the centre of the inner courtyard |
Things to see nearby
A short distance away from Zappion and across a busy road is the Stadium - an early stadium which originally dates back to 330 BC. Built of marble, it was rebuilt in 140 AD and was undergoing restoration in 2003 in preparation for the Olympic Games in Athens in 2004.
A walk through the National Garden leads to Syntagma Square and the Parliament building.
Please click to return to theHome Page of Holiday Accommodation Greece at any time
Special offer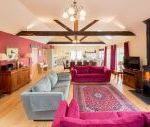 Originally 337 GBP, Now 333 GBP
Find out more about available dates