Shopping in Athens
Shopping in the centre of Athens
Shopping in Athens is different from shopping in most other European countries, and by being different, it is both more interesting, amusing, and sometimes frustrating.

Most Greek people, and especially the young speak fluent English so you shouldn't have too much trouble in making yourself understood if you don't speak Greek. Otherwise, consider it an opportunity to try out those new phrases in the phrase book.

Plaka near the Acropolis is considered by some to be one of the best places to enjoy shopping in Athens. Much of Plaka is pedestrianised and with souvenir shopping galore available here, Plaka holds lots to fascinate and interest tourists.

A stylish shop selling ornaments for the home
Forms of Payment
The currency is the Euro, pronounced Evro in Greek.
Automated cash machines are plentiful in Athens so that it's easy to withdraw cash using your usual bank debit or credit card as long as it is a member of Link or similar system.
Credit cards are accepted in supermarkets, larger shops, restaurants and petrol stations.
Different types of shops
One difference about shopping in Athens is the variety and originality of some ofthe shops in Athens. There is so much style in both the products and their display. Art galleries flourish - some owned by resident artists, others selling the original paintings of others. There are exquisite shops selling ornaments, candles, china, silver, lighting and glassware.
'Zacharoplastio' confectionery shops offer biscuit and cake concoctions, marzipan fruits andcandies to tempt the sweet-toothed Athenian. And there are plenty of them. Then there are the nut and 'nibble' shops where nuts of all types, and cocktail snacks are sold by the kilo, wine shops where you can taste the wine in barrels and take it home by the litre in plastic bottles.
Large superstores haven't quite taken over the marketplace as they have in many other European countries, so that small specialised shops abound. Guests attending weddings are given sugared almond filled bon-bonnieres as they leave the church. Nowhere else on earth will you find a wedding shop with an entire range of bon-bonnieres in all shades from white to cream, trimmed with lace and without. Old-fashioned ironmongers with boxes of nuts and bolts sold individually,chandelier restorers where it's possible to purchase a single crystal droplet.These shops are all quite fascinating and delightful.
Fashion and clothing in Athens
Young Athenians like fashion and style. Female attire tends to be fairly sexy. There is a multitude of fashion shops of all kinds covering the whole price spectrum. Unfortunately furriers appear to flourish although it is somewhat incongruous that Athenians with their warm climate feel the need for fur. We just had to take a photograph of this outrageous outfit trimmed with silver balls (or was it bells) and handbag to match in a boutique in up-market Kolonaki.
Jewellery shops are also found in profusion.

Special offer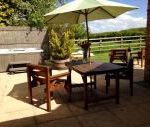 Was 330 GBP, Special Price 310 GBP
See the Offer Details including available dates