Greek Parliament in Athens
Parliament Building

The Parliament Building with the tomb of the Unknown Warrior in the centre
The Parliament building or Old Palace is in a busy location on the east of Syntagma Square. Tourists come to view the building, watch the sentries in their kilted uniforms standing rigidly to attention, feed the pigeons, and take photographs.
Changing of the guard
The guard is changed every Sunday morning at 11 am. in front of the tomb of the Unknown Warrior.
The tombof the unknown warrior
A tomb forthe unknown warrior is situated centrally in the courtyard in front of the Parliament building.
Things tosee nearby
The Zappion or National Gardens lie behind the Parliament building. A short distance away from Zappion and across a busy road is the Stadium - an early stadium which originally dates back to 330 BC. Built of marble, it wa srebuilt in 140 AD and was undergoing restoration in 2003 in preparation for the Olympic Games in Athens in 2004.
Syntagma Square
Crossing the busy road across from the Parliament building would take you to Syntagma Square - a small green and leafy grassed and paved area with park benches, snack traders, lotto sellers and the Metro station. The square block of the Hotel Grande Bretagne stands on one side of the square.
Please click to return to theHome Page of Holiday Accommodation Greece at any time
Special offer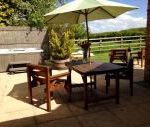 Original Price 330 GBP, Discounted Price 310 GBP
More Information on dates available